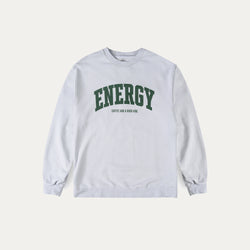 1 / 6
2 / 6
3 / 6
4 / 6
5 / 6
6 / 6
Coffee & A Good Vibe™ Energy Unisex Crewneck Sweatshirt
Coffee & A Good Vibe™ is a Podcast Show, a brand and movement set in the core foundation that abundance is your birthright and anything is possible with a positive, self-serving mindset and belief system.

Ayesha Sehra's sole purpose with the Coffee & A Good Vibe™ platform is to inspire others to make their visions, dreams and business aspirations an abundant reality.


"Energy is everything. Put out the energy you wish to receive." 
The Energy Crewneck was designed to keep this gentle reminder and message at the forefront of how you live and flow through life. Life is a mirror and your energy of how you show up to the day dictates what you get back. Radiate and put out the energy you wish to receive back and life will reciprocate that frequency right back.
The garment is constructed from luxurious French Terry fabric, knitted using premium cotton yarn with a special, compact finish and is dyed using an age-old artisanal technique, ensuring every piece is unique. It features a relaxed, contemporary silhouette with oversized draping sleeves and a dropped shoulder. It fits like a cropped, modern interpretation of a vintage collegiate jumper. 
A unisex crewneck with a classic fit, featuring a relaxed taper in the body and sleeves

Pre-shrunk with a soft wash
Machine wash cold with like colors, tumble dry low or hang dry to minimize shrinkage

This item is made to order. All made to order items are final sale and are not eligible for returns.  

Only

  size exchanges while quantities last.